NEM Vision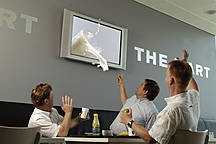 Intention of NEM Vision documents is to present the vision statement of the Networked and Electronic Media (NEM) Initiative, which includes the key challenges that the NEM sector will have to face in the long-term. The description of the NEM picture today and the vision from industry for the future is based on the input from stakeholders of the NEM field, including broadcasters, telecom operators, manufacturers of professional equipment, and manufacturers of consumer electronics, academia, and standardisation bodies. Current version of the vision document presents the long-term statement of the NEM Initiative and expected developments in the NEM area for the time-period 2010 – 2020.
NEM Vision document is created by the NEM Steering Board, which appoints a respective editorial group, in consultation with NEM members.
NEM Vision documents are issued regularly every one-two years.