Welcoming our New Ambassadors
In order to pursue the building of a strong and representative community, the NEM Initiative is always looking for key actors across Europe to act as NEM Ambassadors. The Ambassadors promote the NEM Initiative in their region, represent their ecosystem at EU level and contribute to federating the European convergence and media landscape.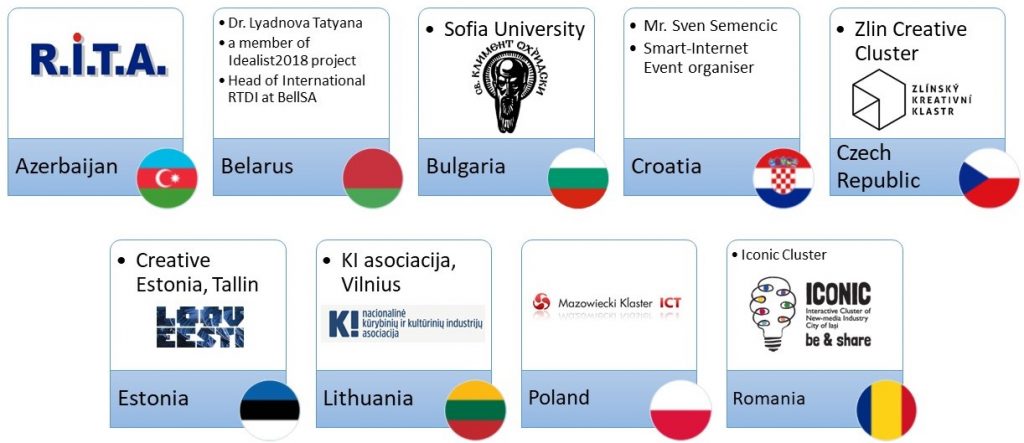 Regional Innovative Technologies Academy (R.I.T.A.) – Azerbaijan: The Regional Innovative Technologies Academy (R.I.T.A.), ICT&FET NCP of HORIZON2020 in Azerbaijan, was established in 2003. Main fields of its activity are consulting, project management, e-government and IT training courses, software development, optimization and control, system analysis, mathematical modelling, management and information processing The team consists of mathematicians, physicists and specialists with experience in solving problems in mechanical engineering and aviation, proposing solutions for high-technology problems.
Dr. Tatyana Lyadnova – Belarus: Tatyana is the Corresponding Member of the Belarusian Engineering Academy. She has been involved in Idealist2014 as a regional representative and task leader. She is an Information and Communication Technologies (ICT) National Contact Point (NCP) in Belarus for H2020 and Research Infrastructure NCP, EuroRisNet+ projects. She was a partner and Work Package Leader in two new EECA projects. Tatyana was also involved in Idealist2018 project, an international ICT NCP network supporting research and innovation activities for the EU Framework Programmes. Today, Tatyana is the Head of the International RTDI Cooperation Department in BElISA, and Research Coordinator of several national studies.
Sofia University – Bulgaria: Sofia University St. Kliment Ohridski is the first Bulgarian high academic school establishment, the biggest and most prestigious scientific hub in the country. It implements an effective interaction between the educational process and the technological development, science and innovative politics. Having in course the creation of an incubator, Sofia University is planning to play a major role in the start-up ecosystem of the country.
Sven Semenčić – Croatia: Sven in specialized i integrated marketing communications in Croatia and has relevant experience as a communications consultant in the PCO agency ATI. He has founded a number of multi-channel projects such as Like Croatia, H2O Summit, MAdD Art & Science, Artist on Vacation or smart-internet. In addition, he was involved in marketing and corporate communications at media company Europapress Holding (EPH).
Zlin Cluster – Czech Republic: The Zlín Creative Cluster is the first cluster in the Czech Republic focusing on the creative industry. The cluster comprises of representatives of the public, private, non-profit and educational sectors from creative and related fields in the Zlín agglomeration. The cluster was established in January 2016 and followed on from the preceding activities of the independent workgroup Creative Zlín. This group formed in 2014 from the impulse of the Statutory City of Zlín based on a recommendation from a project titled "Mapping Cultural and Creative Industries in the Czech Republic". Mapping of the Zlín Region was conducted by the expert Lia Ghilardi from the British organisation Noema Research.
Creative Estonia – Estonia: Creative Estonia (CE) is creative industries development center, which helps to promote and develop creative industries and creative businesses in Estonia and abroad and to show the role of creatives in innovation in other sectors. Creative Estonia aims to clearly present the content, unique characteristics, economic, social and regional value of creative industries; support beginning and established businesses with much needed information and advice; develop an attitude that creates a positive image of business and to increase the business and export ability of creative businesses.
KI Asociacija – Lithuania: Created in 2008, the Association of Creative Industries Leaders of Lithuania is a cluster in cultural and creative industry located in Vilnius. It aims at promoting sector clustering and acts as a cluster of creative industries networking in Lithuania. It is actively involved in regional networking projects in the Baltic Sea Region.
Mazovia Cluster ICT – Poland: The mission of the Mazovia cluster ICT is to bridge the gap between the action and conditions for SME's development. The cluster accomplishes this mission by establishing and developing cooperation between sector of computer science enterprises, telecommunication and electronic media R&D units, universities and business institutions and local authorities in the area of Warsaw and outside metropolitan areas. The competence areas of the Mazovia Cluster ICT are: telecommunication, IT, industrial automatics, power engineering, GIS, Business System Solutions, Creative Industry, Smart City, Smart Grid, eHealth, Decision Support System. In each area has a front runner with the associated entrepreneurs, who cooperate closely in the new projects and the technological solutions.
Iconic Cluster – Romania: Interactive Cluster of New Media Industry City of Iasi is a Romanian ITC cluster created in 2012 with the aim to gather all new media companies from Moldova region and other specific suppliers companies in order to create a microclimate open for innovation and new online products and services.