>> Download the 2012 NEM Summit Proceedings <<
The NEM Summit is an international conference and exhibition, open to co-located events and organised every year since 2008 by Sigma Orionis and Eurescom on behalf of the NEM European Technology Platform for all those interested in Future Internet developments and in the fast paced evolution of the networked electronic media industry. Over the years, the NEM Summit has grown to become an annual not-to-be-missed event, providing attendees with a key opportunity to meet and network with prominent stakeholders, access up-to-date information, discover latest technology and market trends, identify research and business opportunities, and find partners for upcoming EU-funded calls.
The 2012 edition of the NEM Summit, prepared under the supervision of two General co-Chairs, of a Programme Committee, and of an Organizing Committee (see member lists at the bottom of the page), has been successfully held from October 16 to 18 at the Sheraton Ataköy Hotel of Istanbul, Turkey, on the theme "Implementing Future Media Internet towards new horizons".
It has attracted over 320 delegates and over 20 exhibitors from Europe, Turkey and other regions of the world, and has been supported by over 25 sponsors (see logos below). The conference was structured in plenary and parallel thematic sessions, featuring 40 speakers and authors selected following a competitive call for papers.
Beyond the conference itself, the programme included:
the European MediaTech Investment Forum organised by Media Deals with the support of the European Commission (DG CONNECT), to connect SMEs and entrepreneurs to European investors,
a NEMart contest, a recurrent high profile fixture in the NEM Summit programme, inviting applications for real demonstrators/proofs of concept which clearly show the exciting opportunities existing when technology and art/design conjoin.
EU-funded projects and other initiatives had also taken advantage of the 2012 NEM Summit to co-locate parallel workshops: 3DIIM–3D Contournet, Celtic-Plus, Chorus+, FI-Content, GUIDE, and SMARD.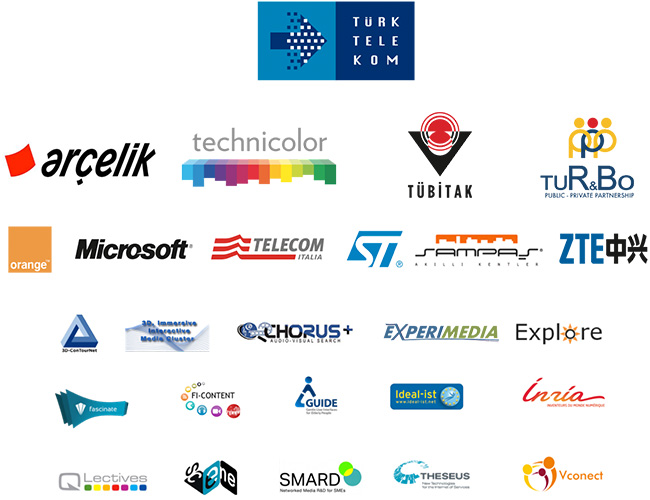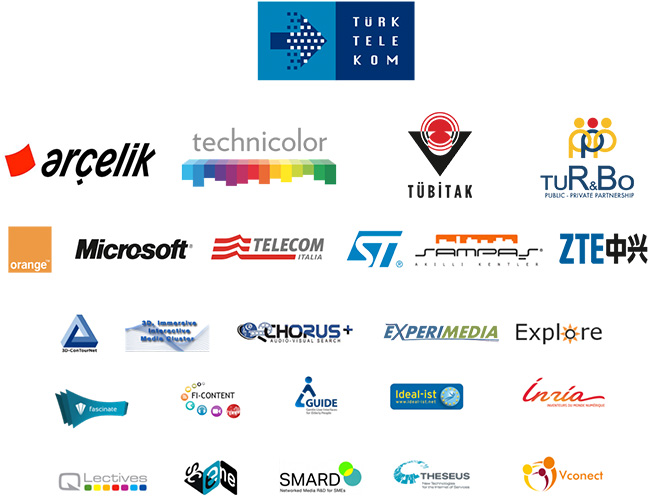 2012 NEM Summit sponsors
2012 NEM Summit general co-Chairs

Jean-Dominique Meunier (Chairman of the NEM Initiative, Technicolor)
Enis Erkel (Head of R&D, Turk Telekom Group)

2012 NEM Summit Organising Committee (OC)

Duygu Oktem (Turk Telekom), OC co-Chair
Roger Torrenti (Sigma Orionis), OC co-Chair
Jovanka Adzic (Telecom Italia)
Pierre-Yves Danet (Orange)
Elçin Mol (Turk Telekom)
Nga Tran (Sigma Orionis)
Rowena Goldman (BBC)
Halid Hrasnica (Eurescom)
Yves-Marie Le Pannerer (Technicolor)
Francisco Medeiros (European Commission)
Ezgi Bener (TUBITAK)
Viorel Peca (European Commission)
Kemal Uyanik (Boogy)

2012 NEM Summit Programme Committee (PC)

Gozde Bozdagi Akar (Middle East Technical University, Ankara), PC Co-chair
Thorsten Herfet (Intel), PC Co-chair
Halid Hrasnica (Eurescom), PC Coordinator
Jovanka Adzic (Telecom Italia)
Reha Civanlar (Özygin University)
Haluk Gökmen (Arcelik)
Rowena Goldman (BBC)
Jose Manuel Menendez (UPM)
Duygu Öktem (Turk Telekom)
Julian Sesena (Rose Vision)
Murat Tekalp (Koc University)
Francisco Medeiros (European Commission), observer
Federico Alvarez (Universidad Politecnica de Madrid)
Jon Arambarri (Virtualware)
Stefan Arbanowski (Fraunhofer FOKUS)
Andy Bower (BBC)
Federica Cena (University of Turin)
Hadmut Holken (Holken Consultants)
Richard Jacobs (BT)
Amela Karahasanovic (SINTEF)
Joachim Köhler (Fraunhofer IAIS)
Artur Krukowski (Intracom)
Goran Petrovic (Saarland University)
Jukka Salo (Nokia Siemens Networks)
Gwendal Simon (Telecom Bretagne)
Alexandru Stan (IN2)
Georg Thallinger (Joanneum Research)
Graham Thomas (BBC)
Lieven Trappeniers (Alcatel-Lucent)
---
Investment Forum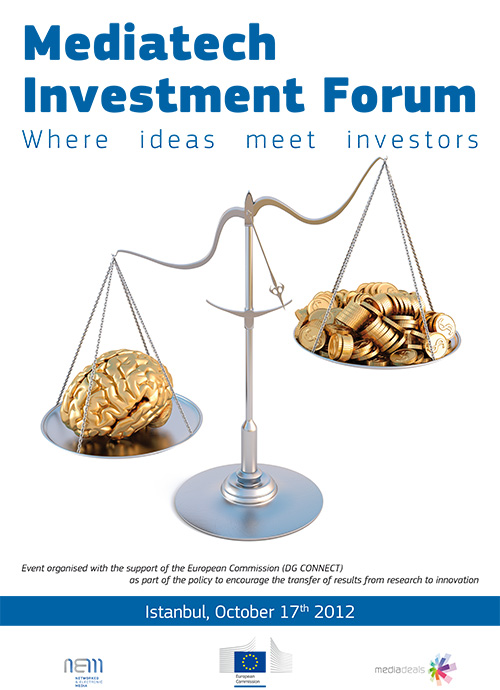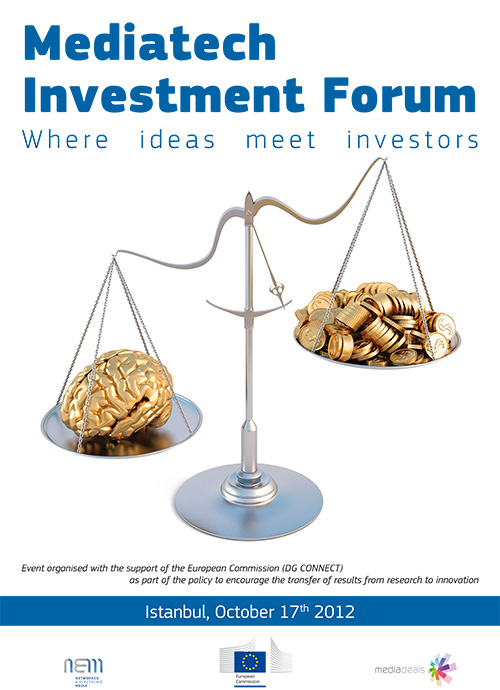 The 2012 NEM Summit has hosted on October 17, 2012 the first "European MediaTech Investment Forum" an event organised by Media Deals with the support of the European Commission (DG CONNECT), as part of the European Commission's policy to encourage the transfer of results from research and innovation to the market.
Ten European SMEs and entrepreneurs specialized in Networked Electronic Media developments, and selected on the basis of applications to be submitted a couple of weeks prior to the meeting have presented their business concepts (in 7' sharp!) to a group of European investors carefully chosen to fit to companies' and projects profiles and needs for investment.
The event was successful and reached its overall objective to more efficiently engage innovative SMEs with investors from across Europe. In the next weeks and months several of these invited SMEs should report an effective impact (on the next round of funding) of their participation in the event.
Forum agenda


11:30

"International investment in early stage mediatech start-ups – Bridging the gap – from R&D to investment"
Moderated by Thierry Baujard, CEO Media Deals

"Introduction of the Investment Forum and its objectives", Viorel Peca, Head of Unit, DG CONNECT, European Commission
"Entrepreneurship and early stage investment in Turkey", Baybars Altuntas, President of the Business Angels Association – Turkey (TBAA)
"Access to market and internationalisation of Turkish R&D", Okan Kara, National Coordinator EU Framework Programmes TÜBİTAK (Scientific and Technological Research Council of Turkey) – Chairman Turkish Eureka
"Current overview of early stage investment in Europe", Paulo Andrez, Portuguese angel investor and President of EBAN (European Business Angels Association)

12:15

Pitch of 3 companies

13:00
Lunch break & Open Networking

14:00

Pitch of 7 companies

16:15

Closing of session – feedback and debriefing
Moderated by Viorel Peca (Head of Unit, DG CONNECT, European Commission), Thierry Baujard (CEO Media Deals)
16:30
Open Networking
Event report

In the framework of the NEM Summit 2012, the European Commission organised on October 17th in Istanbul, in partnership with the network Media Deals and NEM, an Investment Forum dedicated to early stage mediatech entrepreneurs. The 10 invited start-ups and entrepreneurs successfully performed a 7 minutes pitch each, to a panel of European early stage private investors, business angels and seed funds. Each pitch was followed by a Q&A session in which the investors provided tailored feedback to entrepreneurs.Baybars Altuntas, President of the Turkish Business Angels Association and Okan Kara, National coordinator, EU Framework Programmes at Tübitak, welcomed the event in Istanbul and pointed out the current dynamism of Turkish R&D and entrepreneurship. Baybars mentioned also the recent implementation of dedicated new tax incentives to foster angel investment in Turkey.
During the panel session Paulo Andrez, President of the EBAN – European Business Angel Network, emphasized that angel investment is indeed a key gap financing tool in Europe for young technology entrepreneurs, offering expertise and financing in the start-up phase when the companies cannot access public funds and projects are in a too early stage and thus too risky for Venture Capital funds. The Investment Forum has been indeed the occasion for participating entrepreneurs to improve the way they approach private investors and to personally meet up with angel investors focused on their business sector. This has also been the occasion for participants of FP7 projects and other innovation projects to promote the commercial viability of their offerings and devise a GoToMarket strategy that addresses Competitor offerings, and Market Timing.
The Investment Forum had been thought as a pilot initiative by the DG Connect of the European Commission with the objective to foster early stage investment in European media and technology start-ups. "As a result of this experience, Viorel Peca -Head of Unit in DG CONNECT- emphasised that the European Commission intends to encourage commercialisation and introduce schemes that accelerates the market readiness at a very early stage within innovation projects and thereby increase the efficiency of European investments in research and innovation".
The main criteria for project selection were mediatech sector relevance, scalable business model, European/International focus, a strong entrepreneurial and leadership spirit and previous interest won for the project (e.g. prize, investment, subsidies). The following 10 companies were thus selected on the basis of sector, development stage and quality of proposed products/services:
– Netmera (Turkey, Istanbul) back-end services for mobile applications
– Tazaldoo (Germany, Berlin), a social media content curation and verification platform
– AuREEL (Austria, Vienna), a software for video annotation and augmentation
– InfoDif Ltd (Turkey, Ankara), image processing and video analytics
– Bevelity (Spain, Barcelona), a cloud Based application for 3D content
– Witelist Ltd (Spain, Barcelona), location-based browser and mobile application
– VenakaMedia Ltd (UK, London) 3D system capture and offline image visualization software
– KoolFing- RekreateD (France, Grenoble), an immersive 3D platform
– Hercules Filmnetwork (Austria, Vienna), a social network platform for movie producers
– Smartsy (France, Paris), visual recognition and immersive mobile experience
Both entrepreneurs and investors found the event's personalized approach to the industry extremely valuable, as they developed meaningful relationships and benefited from a wide range of investment and industrial partnership opportunities. Investors at the event also took this opportunity to exploring possible mutual interests and to comparing investment methods.
The benefits are well summarised by Jose Romano, head of Turkey and Istanbul Venture Capital Initiative at European Investment Fund who said "This event was very well organised and thought of, bringing together investors, entrepreneurs and policy makers; the latter are the key and they need to be supported in order to ensure continuity and accountability".
---
NEMart
The first "NEMart contest" was organised in 2010, on the occasion of the 2010 NEM Summit held in Barcelona, in order to foster innovation in the Networked Electronic Media area, through a stronger involvement of the Art community, inviting applications for real demonstrators/proof of concepts which clearly show the exciting opportunities which exist when technology and art/design conjoin: interactive entertainment experiences, new design-led applications for social well-being, novel ways of telling stories using digital media, etc.
In 2010, the NEMart awards have been granted to 5 candidates:
THIG presenting "GreenNEM non anthropocentric social network"
The Cut-up team presenting "Enthusiastic artist-scientist collaboration"
mHashup presenting "Uniting civilizations through NEM"
LIVECELL presenting "An interactive and convincing experience"
Cinzia Vigna presenting The Art Lab Progetto Retica
In 2011, at the NEM Summit held in Turin, the winner was "Isabella – The Secret Recipes" designed and developed by Virva Emilia Auvinen who works at Nokia as a Visual and UX Designer, and created the entire project in her spare time.
The 2012 NEM Art Contest has firmly established the NEMart as a high profile fixture in the NEM Summit programme. The contest was launched (see the NEMart flyer) under the aegis of a NEMart Jury including:
Asst. Prof. Ovgu Ozturk Ergun – Intelligent Multimedia Analysis Laboratory, Istanbul
Elçin Mol – Turk Telekom
Jovanka Adzic – Telecom Italia
Jean-Dominique Meunier – Technicolor
Roger Torrenti – Sigma Orionis
Pierre-Yves Danet – Orange Labs
Mevlut Dinc – Sobee
Rowena Goldman – BBC
Virva Emilia Auvinen – Nokia, Berlin
Mehmet Turgut – Photographer, Turkey
Selected applications have been showcased in the exhibition area of the Summit. During the closing session, Rowena Goldman, announced that the NEMart Jury had decided to grant the 2012 award to Michela Magas and Christopher Rea for her Synaesthesia work on "Innovative music components for collaborating and creating music with objects in real space". She received, in recognition for her work, a piece of art extracted from the Wiki-Art web site, launched on the occasion of the 2012 NEM Summit, and inviting Internet users from all over the world to take advantage for the collaborative production of artwork.
The Jury has also decided to grant an "encouraging" award to Jeni Maleshkova for her "Graffiti me" work "Emotional attitude presentation through graphical expression".


---
NEM Summit 2012 – Agenda
14:00 NEM General Assembly – Call 10 Information Session (Room : Grand Ballroom 1)
14:00 Workshop "Interactive workshop on Networked Media R&D commercialisation" (Room : Christopher Columbus)
Moderated by SMARD project
18:30 Welcome cocktail
Welcome address
Mehmet Turgut, Photograph artist
Musical performance
Avea GarageBand
Wednesday, October 17
9:00 Opening Ceremony (Room : Grand Ballroom)
Chaired by General co-Chairs of the NEM Summit: Jean-Dominique Meunier (Chairman of the NEM Initiative, Technicolor), Enis Erkel (Head of R&D, Turk Telekom Group)
Welcome addresses
Enis Erkel, Head of R&D, Turk Telekom Group
Jean-Dominique Meunier, Chairman of the NEM Initiative, Technicolor
Opening addresses
Robert Madelin (video message), Director General, DG Connect, European Commission
Video link : http://www.youtube.com/watch?v=u1zIkNVgGAU
Hasan Palaz, Acting Vice-President of TUBITAK
Detlef Eckert, Director "Media and Data", DG Connect, European Commission
Sahin Albayrak, Berlin Technical University, T-Labs
Keynote address
"Mobile multimedia meets cloud", Chang Wen Chen, State University of New York at Buffalo, USA
NEM Summit Programme Introduction
Thorsten Herfet, co-Chair of the NEM Summit Programme Committee, Intel
Gozde Bozdagi Akar, co-Chair of the NEM Summit Programme Committee, Middle East Technical University, Ankara
11:00 Coffee/Tea break
11:30 Session 1A: Digital Media Content I (Room : Grand Ballroom 1)
Chaired by Jose Manuel Menendez, UPM
"Predictable Reliability for Media Streaming over unmanaged Internet", Manuel Gorius, Thorsten Herfet (Saarland University)
Predictable-Reliability-for-Media-Streaming-over-unmanaged-Internet.pdf
"Controlling a Software-Defined Network via Distributed Controllers", Volkan Yazici, M. Oguz Sunay, Ali Özer Ercan (Özyegin University)
Controlling-a-Software-Defined-Network-via-Distributed-Controllers.pdf
"OpenQoS: OpenFlow Controller Design and Test Network for Multimedia Delivery with Quality of Service", Hilmi Enes Egilmez, Said Tahsin Dane, Burak Gorkemli, Ahmet Murat Tekalp (Koc University, Argela Technologies)
OpenQoS-OpenFlow-Controller-Design-and-Test-Network-for-Multimedia-Delivery-with-Quality-of-Service.pdf
"Web delivery of free-viewpoint video of sport events", Oliver Grau, Chris Budd, Peter Schuebel (BBC R&D, University of Surrey)
Web-delivery-of-free-viewpoint-video-of-sport-events.pdf
11:30 Session 1B: Connected Media Worlds I (Room : Grand Ballroom 2)
Chaired by Gozde Bozdagi Akar, co-Chair of the NEM Summit Programme Committee, Middle East Technical University
"GUIDE: Personalisable Multi-modal User Interfaces for Web Applications on TV", C. Jung, P. Hamisu, C. Duarte, P. Biswas, L. Almeida (Fraunhofer, Universities of Lisbon and Cambridge, CCG)
"GrafiTV: Interactive and personalized information system over audiovisual content", I. de Fez, J. Arambarri, P. Arce, F. Arribas, P. Ortiz (University of València, VirtualwareLabs, Aido, Innovalia Metrology)
"SocialSensor: Surfacing Real-time trends & Insights from Multiple Social Networks", Sotiris Diplaris, Giorgos Petkos, Symeon Papadopoulos, Yiannis Kompatsiaris, Nikos Sarris (Centre for Research and Technology Hellas, Athens Technology Center)
"Immersive Autostereoscopic Telepresence", Mathias Johanson, Kjell Brunnström (Alkit Communications AB, Acreo)
11:30 European MediaTech Investment Forum (Room : Vasco de Gamma 3-4)
11:30 FI-CONTENT workshop (Room : Amerigo Vespucci)
11:30 Workshop "Personalisable Media Systems & Smart Accessibility" (Room : Grand Ballroom 3)
Moderated by GUIDE project
12:50 Lunch break and visits to Summit and NEM art exhibition
14:00 European MediaTech Investment Forum (Room : Vasco de Gamma 3-4)
15:00 Session 2A: Networked Media Experience (Room : Grand Ballroom 1)
Chaired by Murat Tekalp, Koc University
"Audiovisual Network Service Optimization by Quality of Experience Estimation", Mathias Johnson, Jonas Jalminger, Jukka-Pekka Laulajainen, Kaan Bür (Alkit Communications, VTT, Lund University)
"Reduced Reference 3D Video Quality Assessment based on Cartoon Effect", Gokce Nur, Gozde Bozdagi Akar, Haluk Gokmen (Kirikkale University, METU, Arcelik)
"Towards Scalable And Interactive Delivery of Immersive Media", Omar Niamut, Jean-Francois Macq, Martin Prins, Ray van Brandenburg, Nico Verzijp (TNO, Alcatel-Lucent Bell Labs)
"Using the MPEG-7 Audio-Visual Description Profile for 3D Video Content Description", Nicholas Vretos, Nikos Nikolaidis, Ioannis Pitas (Aristotle University of Thessaloniki)
"New usability evaluation model for a personalized adaptive media search engine based on interface complexity metrics", Silvia Uribe, Federico Álvarez, José Manuel Menéndez (Universidad Politécnica de Madrid)
15:00 Session 2B: Connected Media Worlds II (Room : Grand Ballroom 2)
Chaired by Andy Bower, BBC
"HTTP Adaptive Streaming: MPEG-DASH Proxy for Legacy HTML5 Clients", Stefan Kaiser, Stefan Pham, Stefan Arbanowski (Fraunhofer Institute for Open Communication Systems FOKUS)
"Enrichment of News Show Videos with Multimodal Semi-Automatic Analysis", D. Stein, E. Apostolidis, V. Mezaris, N. A. Pereira, J. Müller (Fraunhofer IAIS, CERTH-ITI, Rundfunk Berlin Brandenburg)
"The creation of a perceptive audio drama", Anthony Churnside, Ian Forrester (BBC)
"SVM-based Shot Type Classification of Movie Content", Ioannis Tsingalis, Nicholas Vretos, Nikos Nikolaidis, Ioannis Pitas (Aristotle University of Thessaloniki)
"A System for Task-Oriented Content Analysis and Search in Media Production", Werner Bailer, Peter Altendorf, Alberto Messina, Fulvio Negro, Georg Thallinger (JOANNEUM RESEARCH, RAI, Institut für Rundfunktechnik)
15:00 FI-CONTENT workshop (Room : Amerigo Vespucci)
15:00 Workshop "Personalisable Media Systems & Smart Accessibility" (Room : Grand Ballroom 3)
Moderated by GUIDE project
16:40 Roundtable with Turkish tea and coffee on "Innovation System in Europe and How the NEM community can strengthen the innovation" (Room : Grand Ballroom)
Chaired by Enis Erkel, General co-Chair of the NEM Summit, Head of R&D, Turk Telekom Group
Viorel Peca, Head of Unit, DG Connect, European Commission
Jean-Dominique Meunier, General co-Chair of the NEM Summit, Chairman of the NEM Initiative
Bulent Kaytaz, CEO of Argela Technologies
Prof. Dr. Murat Tekalp, Dean of Computer Engineering, Koc University
Andy Bower, BBC
Tunc Kahveci, CEO of Ardic Tech
Dr. George Ioannidis, IN2
18:00 Open networking
20:30 Networking Dinner
Thursday, October 18
9:00 Keynote session (Room : Grand Ballroom)
Chaired by Duygu Oktem, co-Chair of the NEM Summit Organizing Committee, Turk Telekom
"TV World: 3D, Connected and Smart TVs, Interfaces and Trends", Cem Kural, Arcelik
"4D Modelling: From Video to Interactive 3D Digital Media Content", Adrian Hilton, University of Surrey, UK
"E-Heritage, Cyber Archaeology and Cloud Museum", Katsushi Ikeuchi, University of Tokyo, Japan
10:30 Coffee/Tea break
11:00 Session 3A: Digital Media Content II (Room : Grand Ballroom 1)
Chaired by Pierre-Yves Danet, France Telecom
"Scene Modelling For Richer Media Content", Chris Budd, Jean-Yves Guillemaut, Martin Klaudiny, Adrian Hilton (University of Surrey)
"Enhancing Viewer Engagement Using Biomechanical Analysis of Sport", Robert Dawes, Bruce Weir, Chris Pike, Paul Golds, Mark Mann (BBC R&D)
"Foundations of a New Interaction Paradigm for Immersive 3D Multimedia", Iris Galloso, Francisco Pedro Luque, Luca Piovano, David Garrido, Claudio Feijoo (Technical University of Madrid)
"RE@CT – Immersive Production and Delivery of Interactive 3D Content", O. Grau, E. Boyer, P. Huang, D. Knossow, E. Magio (BBC, INRIA, Surrey University, ARTEFACTO, Vicon)
11:00 Session 3B: Application & Experimentation track (Room : Grand Ballroom 2)
Moderated by Jovanka Adzic, Telecom Italia
"Sourcing content from social media: a journalistic application of the SocIoS platform", Birgit Gray, Sara Porat, Konstantinos Tserpes (Deutsche Welle, IBM, National Technical University of Athens)
"Society@school: social enhanced reading experiences for education", F. L. Mondin, O. R. Rocha, M. Belluati, E. A. M. Guercio (Telecom Italia, Politecnico di Torino)
"Synaesthesia Innovative music components for collaborating and creating music with objects in real space", Michela Magas, Christopher Rea (Stromatolite Design Research Laboratory)
"Connected TV: new opportunities for the accessibility", Carlos Alberto Martín, José Manuel Menéndez, Guillermo Cisneros (Universidad Politécnica de Madrid)
"User-­activated public service", Miriam Lerkenfeld, Torsten Andreasen (Danish Broadcasting Corporation, Department of Arts and Cultural Studies)
11:00 CELTIC+ workshop (Room : Amerigo Vespucci)
11:00 Workshop "3D Immersive and Interactive Content Creation, Coding and Transmission" (Room : Grand Ballroom 3)
Moderated by 3D Immersive, Interactive and Media Cluster and 3D-ConTournet project
12:20 Coffee/Tea break
12:30 Closing ceremony (Room : Grand Ballroom)
Chaired by Roger Torrenti, co-Chair of the NEM Summit Organizing Committee, CEO of Sigma Orionis
Keynote address
"Bringing the Olympics to audiences in 8k Ultra High Definition", John Zubryzycki, BBC R&D, UK
NEM Summit Awards
Best Paper Award, Thorsten Herfert (Intel), Gozde Bozdagi Akar (Middle East Technical University)
NEMart Award, Rowena Goldman, BBC
Best Demonstration Award, F.Mehmet Gokgoz, Director of TURBO
Closing remarks
Jean-Dominique Meunier, General co-Chair of the NEM Summit, Chairman of the NEM Initiative, Technicolor
Closing performance
David Wortley
13:30 Lunch break and Open Networking
15:00 NEM Steering Board Meeting (Room : Grand Ballroom 1)
15:00 Workshop "3D Immersive and Interactive Content Creation, Coding and Transmission" (Room : Grand Ballroom 3)
Moderated by 3D Immersive, Interactive and Media Cluster and 3D-ConTournet project
---
List of registered participants
| | |
| --- | --- |
| Julio ABASCAL | University of the Basque Country |
| Jovanka ADZIC | Telecom Italia |
| Amar AGGOUN | Brunel University |
| Ayhan AK | Arcelik |
| Ozgur Baris AKAN | Turk Telekom |
| Adnan AKDEMIR | Sifisan Investments |
| Arda AKMAN | Turk Telekom |
| Fatih AKSENER | Turk Telekom |
| Baturalp AKSOY | Turk Telekom |
| Nuran AKYURT | Marmara University |
| Baris ALA | ParkYeri |
| Fatih ALAGOZ | Turk Telekom |
| Sahin ALBAYRAK | Berlin Technical University, T-Labs |
| Murat ALTAN VEZIROGLU | Turk Telekom |
| Baybars ALTUNTAS | LINKS ANGEL |
| Federico ALVAREZ | Universidad Politecnica de Madrid |
| Mezaour AMAR DJALIL | Exalead |
| Maria Teresa ANDRADE | FEUP / INESC Porto |
| Torsten ANDREASEN | University of Copenhagen |
| Paulo ANDREZ | FNABA/EBAN |
| Valerio ANGELINI | VALA |
| Stefan ARBANOWSKI | Fraunhofer Fokus |
| Emre ARDIC | SAMPAS |
| Cagan ARI | ZTE |
| Zafer ARICAN | Turk Telekom |
| Tarik ARICI | Istanbul Sehir University |
| Leyla ARSAN | TAGES |
| Gokcen ASLAN AYDEMIR | University of Cambridge |
| Pedro ASSUNCAO | Instituto de Telecomunicacoes/IPLeiria |
| Cenk ATLIG | Trakya University |
| Virva Emilia AUVINEN | Nokia |
| Alper AY | TUBITAK BILGEM |
| Mustafa AYKUT | Turk Telekom |
| Selda AYLIN DOGANCAN | Turk Telekom |
| Rana BABAC | SAMPAS |
| Thomas BACHET | TNO |
| Tolga BAGCI | Koc University |
| Kagan BAKANOGLU | Vestel Elektronik |
| Mehmet Koray BALCI | CC Yazilim |
| Selim BALCISOY | Sabanci University |
| Ebru BASAK AKOZ | TUBITAK |
| Thierry BAUJARD | Media Deals |
| Emre BECERIKLICAN | Turk Telekom |
| Malte BEHRMANN | EGDF |
| Maurizio BELLUATI | Telecom Italia |
| Farid BENBADIS | Thales Communications & Security |
| Claire BILLE BIZE MASSON | Orange |
| Kaan BINGOL | Netmera |
| Izzet BOGAZLIYANLIOGLU | Turk Telekom |
| Lorena BOIX-ALONSO | European Commission |
| Michael BONIFACE | IT Innovation Centre |
| Andy BOWER | BBC R&D |
| Gozde BOZDAGI AKAR | Middle East Technical University |
| Chris BUDD | University of Surrey, CVSSP |
| Fahri BULENT EGRILMEZ | Turk Telekom |
| Ugur CAGAL | NETAS |
| Kursat CAGILTAY | SimSoft |
| Onur Baran CAGLAR | Pozitim |
| Nazmi CAGLAR BOLUK | Turk Telekom |
| Patrick CANDRY | Barco n.v. |
| Eusebio CARASUSAN | Televisio de Catalunya SA |
| Zafer CATMAKAS | Turk Telekom |
| Chang Wen CHEN | State University of New York at Buffalo |
| Paul Ian CHIPPENDALE | Bruno Kessler Foundation |
| Selami CIFTCI | Turk Telekom |
| José Romana Baptista COELHO | University of Lisbon |
| Lebin Ebru COKISLER | Turk Telekom |
| Carmen CRIMINISI | Telecom Italia |
| Said Tahsin DANE | Koc University |
| Pierre-Yves DANET | Orange research lab CTO |
| Robert DAWES | BBC R&D |
| Sven DE CLEYN | IBBT |
| Carl James DEBONO | University of Malta |
| Ibrahim DELIBALTA | Turk Telekom |
| Ramazan DEMIR | Turk Telekom |
| Tugce DENIZLERKURDU | Digiturk |
| Merve DEVECILER | Johnson & Johnson |
| Raluca DIACONU | Orange Labs |
| Pinar DILMEC | Basari Mobile (Turkcell) |
| Mevlut DINC | SOBEE |
| Kristaps DOBRAJS | JCP-Consult |
| Carlos DUARTE | University of Lisbon |
| Stephen DUNNE | Starlab |
| Mahmut DURGUN | Karamanoglu Mehmetbey University |
| Detlef ECKERT | European Commission |
| Robert ECKHOFF | SRFG |
| Bülent EFECIK | Arcelik |
| Deniz EFIL | TRT |
| Stefan EICKELER | Fraunhofer IAIS |
| Onur EKER | Turk Telekom |
| Ertug EKINCI | Koc University |
| Emre KAYA | Turk Telekom |
| Cihan EMRE KEMENT | Turk Telekom |
| Ferhat ERATA | UNIT |
| Ali Ozer ERCAN | Ozyegin University |
| Arif Tanju ERDEM | Momentum |
| Fetullah ERDİNC | Turk Telekom |
| Mustafa ERGEN | Turk Telekom |
| Ovgu Ozturk ERGUN | Bahcesehir University |
| Ernis ERKEL | Turk Telekom Group |
| Adil EROL KUCUK | InfoDif Ltd |
| Murat ERTEN | Turk Telekom |
| Sarp ERTURK | Kocaeli University |
| Gencay Kemal EVIRGEN | Cengsoft |
| Magnus FANT | Alkit Communications AB |
| Sergi FERNANDEZ | I2CAT FUNDACIO PRIVADA |
| Frederik FISCHER | Tazaldoo |
| Ian FORRESTER | BBC R&D |
| Santi FORT | Barcelona Media |
| Henri FOURDEUX | Technicolor R&D |
| Oscar GARCIA PERALES | TIE Kinetix |
| Deniz GAYDE | Turk Telekom |
| Erik GEELHOED | University College Falmouth |
| Yakup GENC | Gebze Yuksek Teknoloji Enstitusu |
| Ramtin GHASEMIPOUR-YAZDIAZDI | auREEL |
| Albert GIL | UPC (FascinatE Project) |
| Nigel GILBERT | University of Surrey |
| Michel GIULIANI | CANAL 40 |
| Isabelle GIULIANI | CANAL 40 |
| Maciej GLOWIAK | Poznan Supercomputing & Networking Center |
| Mehmet GOKGOZ | TURBO |
| Haluk GOKMEN | Arcelik |
| Mehmet GOKTURK | Gebze Institute of Technology |
| Ersel GOKYOKUS | Turk Telekom |
| Rowena GOLDMAN | BBC R&D |
| Manuel GORIUS | Saarland University |
| Burak GORKEMLI | Turk Telekom |
| Akif GORUR | Turl Telekom |
| Atanas GOTCHEV | Tampere University of Technology |
| Oliver GRAU | BBC R&D |
| Birgit GRAY | Deutsche Welle |
| Holger GROSSMANN | Fraunhofer IDMT |
| Sefik GULDIBI | SOBEE |
| Ozgur GUNGOR | Marmara University |
| Pınar GURSEV | Phonoclick |
| Volker Hahn | Fraunhofer IGD |
| Perrine HAMON | Media Deals |
| Burak HATIP | ZTE |
| Luitgard HAUER | EURESCOM |
| Ilker HELVACI | SEBIT |
| Thorsten HERFET | Intel GmbH |
| Kristina HERRMANN | THESEUS research program |
| Adrian HILTON | University of Surrey |
| Hadmut HOLKEN | Holken Consultants & Partners |
| Halid HRASNICA | Eurescom GmbH |
| Katsushi IKEUCHI | University of Tokyo |
| Mumtaz IL | TRT |
| Hazer INALTEKIN | Antalya International University |
| Richard JACOBS | BT |
| Jurgen JAHNERT | MFG |
| Jonas JALMINGER | Alkit Communications AB |
| Mathias JOHANSON | Alkit Communications |
| Christoph JUNG | Fraunhofer IGD |
| Tunc KAHVECI | Turk Telekom |
| Stefan KAISER | Fraunhofer Fokus |
| Baris KALAN | Turk Telekom |
| Jari-Pekka KALEVA | EGDF |
| Hakam KANAFANI | Turk Telekom |
| Alper KANAK | TUBITAK BILGEM |
| Aylin KANTARCI | Ege University |
| Okan KARA | TUBITAK |
| Gonca KARA DEMIR | SAMPAS |
| Bugra KARABEY | Microsoft Turkey |
| Amela KARAHASANOVIC | SINTEF |
| Erdem KARATOPRAK | Turk Telekom |
| Thiemo KASTEL | University of Applied Sciences St. Polten |
| Itay KATZ | eyeSight Mobile Technologies |
| Roman KAURSON | JCP-Consult |
| Okan KAYA | Technomart (Turkcell) |
| Emrah KAYA | Technomart (Turkcell) |
| Joaquin KELLER | Orange Labs |
| David KENNEDY | Eurescom GmbH |
| Burcu KEPENEKCI | ParanaVision |
| Markus KETTERL | Fraunhofer IAIS |
| Gert KIENAST | Joanneum Research Forschungsgesellschaft mbH |
| Damla KILICARSLAN | Turk Telekom |
| Deniz KILINC | Koc University |
| Ibrahim KIREMITCI | Turk Telekom |
| Felix KLEIN | Intel Visual Computing Instittude |
| Murat KOCAOGLU | Koc University |
| Joachim KOHLER | Fraunhofer IAIS |
| Tamas KOJEDZINSZKY | University of Szeged |
| Helen KOPMAN | European Commission |
| Ari KORHONEN | Lagoon Capital |
| Cem KURAL | Arcelik |
| Murat KUSCU | Koc University |
| Sandrine LACHARME | Orange Research Lab |
| Ainhoa LALMOLDA | Barcelona Media |
| Jean-Hugues LAURET | Institut Mines-Telecom |
| Oscar LAZARO | Innovalia |
| Emeric LECAILLON | Technicolor |
| Miriam LERKENFELD | Danish Broadcasting |
| Bertrand LEROY | Technicolor R&D |
| Diann LESTER | Immersive Technology Strategies |
| Sven LINDMARK | IBBT |
| Tatyana LYADNOVA | BELISA |
| Carmen MAC WILLIAMS | Grassroots Arts |
| Jean-Francois MACQ | Alcatel-Lucent Bell Labs |
| Michela MAGAS | Stromatolite Design Research Laboratory |
| Jacques MAGEN | Celtic-Plus |
| Derya MALAK | Koc University |
| Jeni MALESHKOVA | Queen Mary, University of London |
| Sercan MAMAKLI | Turk Telekom |
| Marco MASETTI | Softeco Sismat srl |
| Mike MATTON | VRT |
| Carlo Maria MEDAGLIA | University La Sapienza Rome |
| Deniz MENDI | TUBITAK BILGEM BTE |
| Jose Manuel MENENDEZ | Universidad Politecnica de Madrid |
| Jean-Dominique MEUNIER | Technicolor |
| Vasileios MEZARIS | CERTH-ITI |
| Denis MISCHLER | Technicolor R&D |
| Elcin MOL | Turk Telekom |
| Fabio Luciano MONDIN | Telecom Italia |
| Stephanie MORALES | SIGMA ORIONIS |
| Myer MORRON | EFPC (UK) Ltd |
| Panagiotis MOSCHONAS | CERTH/ITI |
| Ugur MUTLUHAN ORUNCAK | Turk Telekom |
| Chris NEEDHAM | BBC R&D |
| Ralf NEUDEL | IRT |
| Omar NIAMUT | TNO |
| Thomas NIESSEN | THESEUS research program |
| Nikos NIKOLAIDIS | Aristotle University of Thessaloniki |
| Lyndon NIXON | auREEL |
| Viktor NORDSTROM | Bevelity |
| Gioacchino NORIS | Disney Research Zurich |
| Francesco NUCCI | Engineering S.p.a. |
| Gokçe NUR | Arcelik |
| Duygu OKTEM | Turk Telekom |
| Emre OSKAYLAR | Turk Telekom |
| Mehmet Emin OZGUL | Turkcell Teknoloji ve Arge A.S. |
| Oznur OZKASAP | Koc University |
| Firat OZPINAR | European Investment Fund |
| Olcay OZTANIR | TUBITAK BILGEM |
| Cengiz OZTELCAN | Turk Telekom |
| Ali OZTURK | Turk Telekom |
| Hasan PALAZ | TUBITAK |
| Evangellos PALLIS | TEI Crete |
| Yakup PALOMBA | Basari Mobile (Turkcell) |
| Eleonora PANTO | CSP |
| Magali PAYET | Technicolor R&D |
| Viorel PECA | European Commission |
| Ayse Naz PELEN | Witelist Ltd |
| Alexandre PEREDA BANOS | Barcelona Media |
| Osman PERKSOY | Telenity |
| Stefan PHAM | Fraunhofer Fokus |
| Stephen PHILLIPS | IT Innovation Centre |
| Oliver PIDANCET | RBB |
| Luca PIOVANO | CEDINT.UPM |
| Michela POLLONEC | CSP |
| Sara PORAT | IBM |
| Martin PRINS | TNO |
| Thierry PRIOL | INRIA |
| Huseyin R. DEMIRHISAR | Angel Wings Ventures |
| Stijn RAMMELOO | Barco NV |
| Naeem RAMZAN | VenakaMedia Ltd |
| Christopher REA | Stromatolite Design Research Laboratory |
| Uwe RIEMANN | Technicolor |
| Gerhard ROIDER | FEDD.at |
| Jose ROMANO | European Investment Fund |
| Diego ROMERO | ITA |
| Balz ROTH | Go Beyond |
| Alexandra RUDL | MFG |
| Nikos SARRIS | ATC |
| Aysegul Ataman SCHARNING | Time.is /Netburn Web Solutions |
| Robert SEELIGER | Fraunhofer Fokus |
| Ahmet SERDAR TAN | Turk Telekom |
| Julian SESENA | ROSE VISION |
| Eric SEULLIET | La Fabrique du Futur |
| Metin SEZGIN | Koc University |
| Giuseppe SISTO | Telecom Italia |
| Philipp SLUSALLEK | DFKI |
| Eugene SMYTH | Allied Irish Banks Seed Capital Fund |
| Sergios SOURSOS | INTRACOM TELECOM |
| Jochen SPANGENBERG | Deutsche Welle |
| Alexandru STAN | IN2 Search Interfaces Development ltd. |
| Peter STOLLENMAYER | Eurescom GmbH |
| Andreas STRASSER | SRFG |
| Cem SUER | Techno-Labs |
| Mehmet SUNAY | Ozyegin Universitesi |
| Mevlut TACYILDIZ | TRT |
| Cebrail TASKIN | Turk Telekom |
| Murat TEKALP | Koc University |
| Georg THALLINGER | Joanneum Research Forschungsgesellschaft mbH |
| Ivan THOMAS | KoolFing |
| Roman TOLIC | Hercules Filmnetwork |
| Angelique TOQUET | Technicolor |
| Roger TORRENTI | SIGMA ORIONIS |
| Kivanc TOS | TUBITAK EU FP National Coordination Office |
| Nga TRAN | SIGMA ORIONIS |
| Konstantinos TSERPES | Institute of Communication & Computer Systems |
| Mehmet TURGUT | Photograph artist |
| Rainer TYPKE | European Commission |
| Tobias UNGER | GRIDSOLUT & Co.KG |
| Bige Deniz UNLUTURK | Koc University |
| Suzan USKUDARLI | Bogazici University |
| Gurkan USTUNKAR | Vestel Electronics |
| Kemal UYANIK | BOOGY |
| Onder UYSAL | Turk Telekom |
| Semih UZUN | Turk Telekom |
| Rik VAN DE WALLE | Ghent University – IBBT |
| Nathalie VAN DE WIELE | Sillages |
| Jos VAN SAS | Alcatel-Lucent |
| Daniel VANDER VORST | Vicomtech |
| Salvatore VIRTUOSO | Kit Digital Inc. |
| Erol VOLKAN | Mobilera Holding BV |
| Michele WILMET | JCP-Consult |
| David WORTLEY | Immersive Technology Strategies |
| George WRIGHT | BBC R&D |
| Maria XENITIDOU | University of Surrey |
| Anil YALCINKAYA | Turk Telekom |
| Burcu YARGICOGLU | Turk Telekom |
| Nejat YAVUZ | Turk Telekom |
| Volkan YAZICI | Ozyegin University |
| Kamil YILMAZ | Turk Telekom |
| Salim YILMAZ | Turk Telekom |
| Aylin YORULMAZ | Turkcell Teknoloji ve Arge A.S. |
| Serdar YUMLU | SAMPAS |
| Barbara ZAMBRINI | BBC R&D |
| Antonio ZANGRILLI | INVENT |
| Christoph ZIEGLER | IRT |
| Alois ZISTLER | IRT |
| John ZUBRZYCKI | BBC R&D |