NEM Summit 2021

23/24 November 2021, 13:00 – 17:30 CET
(virtual event)
The 13th edition of the NEM Summit will be organized as virtual event on 23 and 24 November 2021, on both days afternoons between 13:00 – 17:30 CET. Please, reserve these dates to attend the event and take part in discussions on the latest development in European media, content, and creativity.
The NEM Summit is an international conference and exhibition, organized since 2008 by the NEM Initiative for all those interested in broad area of Media, Content, and Creativity. Over the years, the NEM Summit has grown to become an annual not-to-be-missed event, providing attendees with a key opportunity to meet and network with prominent stakeholders, access up-to-date information, discover latest technology and market trends, identify research and business opportunities, and find partners for upcoming EU-funded calls for projects.
To participate at the NEM Summit 2021, please, join through the following link: https://nemsummit2021.hiper.events/.
Agenda
23 November 2021, 13:00 – 17:30 CET
13:00 – 14:00 Opening session
Moderator: Halid Hrasnica, Eurescom
14:15 – 16:15 Future of media distribution
Chair: Pierre-Yves Danet, Orange
5GMedia project (Ultra High Definition over Content Delivery Network, Remote Production, Immersive Media and Virtual Reality), Francesco Nucci, Engineering
5G Victori project (CDN services in dense, static and mobile environments), Cristian Patachia, Orange
5Gtango project (Immersive Media), Francesco D'Andria, ATOS
5G-Picture project (Mega-Event in stadium): Daniel Camps Mur
5Gcity project (Ultra-high-definition Video Distribution and Immersive Services, Video Acquisition and Production with Community media engagement in live events), Daniel Camps Mur, i2CAT
Presentation of the Smart Network Services Joint Undertaking
Presentation of the Joined NEM/NetworldEurope Working Group
16:30 – 17:30 Post Covid19 – challenges and solutions for cultural and creative industries in Europe
Chair: Malte Behrmann, bbw-hochschule, Berlin
General discussion with view of researcher (KEA) and two artists (La Fura & Musicalmente)
specific discussion on changes in working methods (Gema & Teamto)
Participants:
Arthur Le Gall, KEA
Paulo Lameiro, Musicalmente
Fran Fura, La Fura
Luis Agrellos, Gema
Jean-Baptiste Spieser, Teamto
24 November 2021, 13:00 – 17:30 CET
13:00 – 14:00 Media for vertical industry sectors
Chair: Pierre-Yves Danet, Orange
Future of media in Europe where we can invite people from the most relevant vertical sectors for Media&Content technologies (entertainment, CCI, Health, Education, Tourism, …) we can have one key note giving information about Media&Content technologies and a round table with these vertical representatives
The idea is to better understand how media technologies initially developed for CCI and Entertainment can be also used by other verticals. We know that a number of sectors are using Media technologies such as Education for remote teaching, Health for remote medicine, Tourism for remote visit, ….
Short introduction
Key note: Education, Entertainment, CCI, Baruch Altman, LiveU
Open workshop with participants in order to collect use cases where Media could have an interest for vertical sectors. How media technologies could benefit to digitalization of verticals (entertainment, CCI, Health, Tourism, Education, Industry, …)
14:00 – 17:00 New Immersive Media Formats
Chairs: Thorsten Herfet (University of Saarland), José Manuel Menéndez (Universidad Politécnica de Madrid), Sergi Fernandez Langa (i2cat)
Media is getting immersive. Not only do the classical major components audio and video reach an unprecedented level of immersion, they will be complemented by media-components addressing other sensors (touch, taste, smell). The session on New Immersive Media Formats will introduce the current state-of-the-art and visions for New European Media. Media Formats will redefine the way we communicate, learn, entertain and even work. Extended Reality is taking momentum and big corporations are riding the wave towards more immersive and interactive applications and systems with the main objective of bringing reality and virtuality closer. Soon we will be able to interact with others while apart as if we were sharing the same environment and we will be able to watch, hear and potentially touch or smell content immersed as if we were on it and from any point of view, with unprecedented levels of realism.
Consequently, higher order visual, auditory and other sensory data needs to be captured, processed, transmitted and rendered. This session aims at giving an overview of the most relevant current work in Europe towards the next generation of media experiences.
Invited Talks:
Immersive Video Codecs, Valerie Allie (Interdigital)
15:15 – 15:30 Break
Invited H2020 projects:
17:00 – 17:30 Closing addresses
Moderator: Silvia Boi, Engineering
Brief NEM activity overview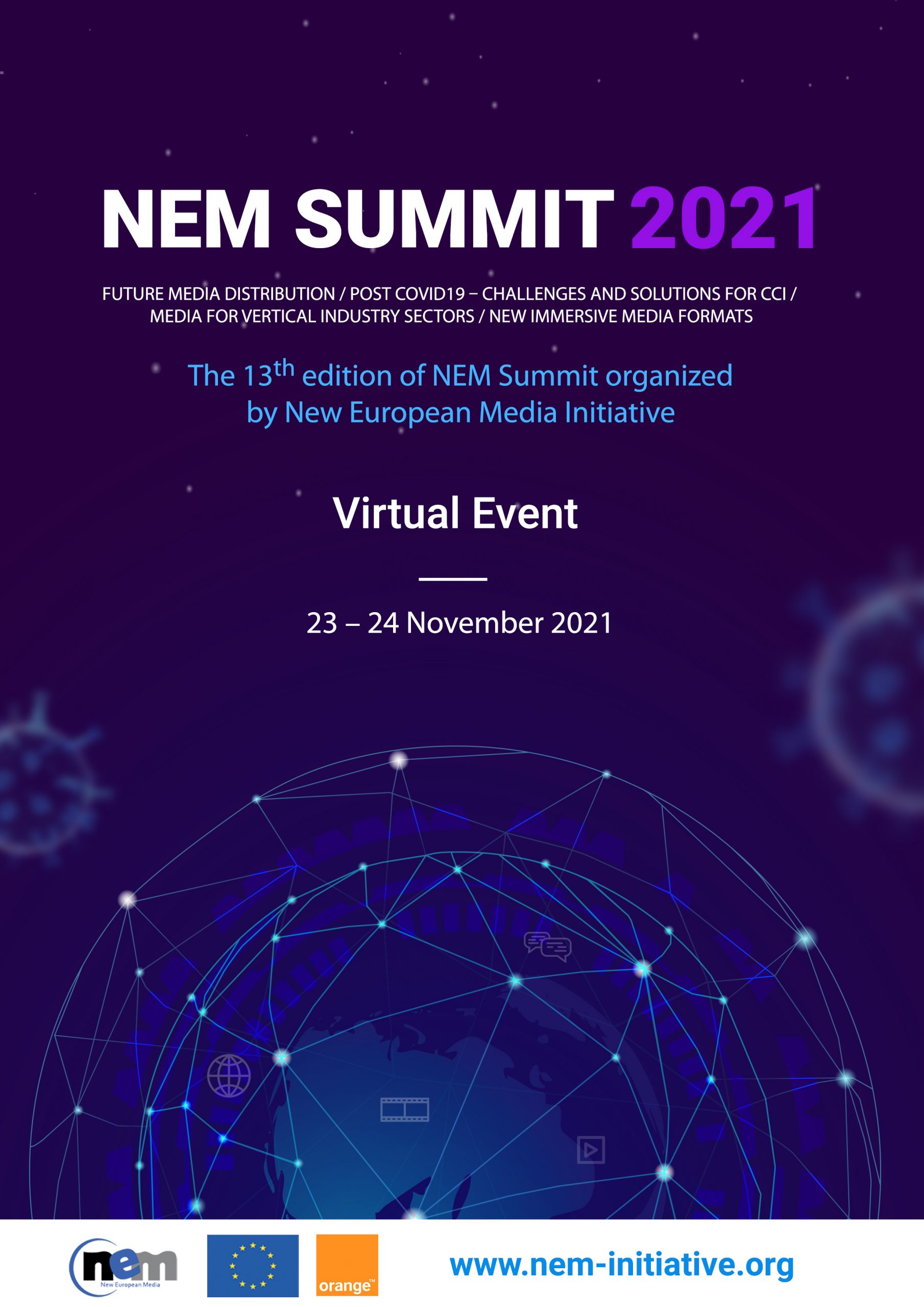 Sponsor