Special offers are available for NEM members to present their projects, products and services in Frankfurt.
NEM Summit 2015 took place at the Frankfurt Book Fair. It was a chance to connect with the NEM community, as well as with one of Europe's biggest creative industries, book publishing.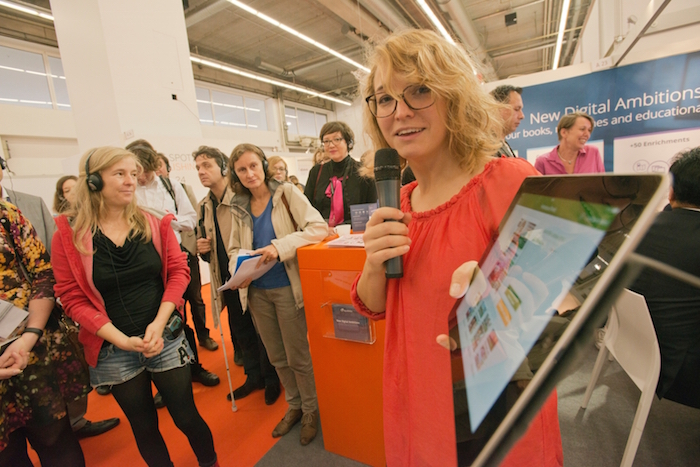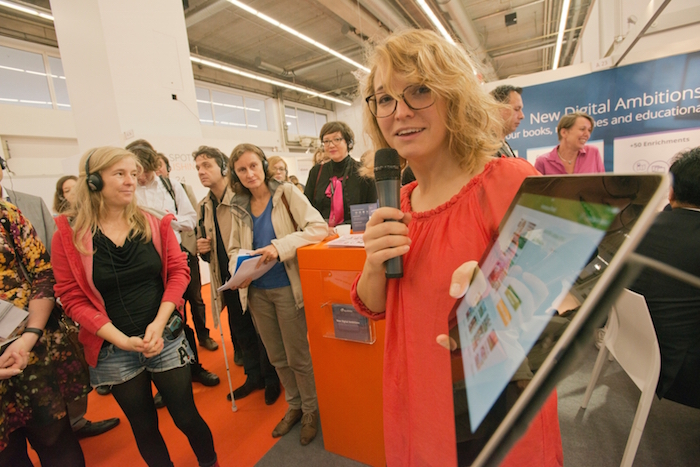 Exhibition booth at the Frankfurt Book Fair 2014
The Frankfurt Book Fair is the most important international trading place for content-based intellectual property, ranging from novels and children's books to academic databases. It is also a place for starting more broadly based co-productions and cooperation. Publishing professionals from around the world meet here with partners from the technology and research sectors, and from related creative industries, such as film and games. At the same time, the Book Fair is a huge cultural event which, for five days every year, turns Frankfurt am Main into the centre of the international media world. This year's Guest of Honour is Indonesia. Every year, about 7,300 exhibitors from more than 100 countries, around 275,000 visitors, more than 3,700 events, 9,000 journalists and over 1,000 bloggers all combine to make the Frankfurt Book Fair the biggest trade fair for the international publishing industry.
---
NEM deal S – NEM Summit presence: €900
A chance to showcase at the NEM Summit on Friday, 16 October (Room Dimension, NEM Summit area).
1 counter (c. 120 cm * 50 cm) with 2 chairs during the NEM Summit, ideal for use during breaks at the Summit
1 ticket for the NEM General Assembly (15 October) and the NEM Summit (16 October), including free entry to the Frankfurt Book Fair (14-18 October)
optional: LAN connection for an additional 380 Euro (a WLAN connection is available in the room for free, but a stable connection cannot be guaranteed during peak times )
---
NEM deal M – Hot Spot presence: €2,448
An opportunity to showcase at the heart of the Frankfurt Book Fair community (Hot Spot in one of the many halls of the Book Fair) 
Exhibit and present products at one of the multimedia Hot Spot stands in the vibrant technology areas of the Fair, where other digital innovators and technology service providers usually present themselves. This deal includes the standard Book Fair "starter" package for a multimedia stand, plus the marketing package "bronze", as well as additional services, such as the inclusion of your stand in guided tours with VIPs and media representatives.
You can find more information on the Hot Spots and also register here: http://www.buchmesse.de/en/fbf/registration/hot_spots/
This package in detail:
a 3 sq m plug & play multimedia stand for your presentation for the duration of the Fair: 14 – 18 October
locations available:
a 30 minute presentation slot on the Hot Spot Stage
inclusion of your stand in the Hot Spot guided tour, attended by VIPs from politics, culture and media
inclusion in the virtual Hot Spot tour as part of the Book Fair mobile app
inclusion of your company profile (with logo and events) in the Hot Spot brochure (print)
inclusion of your company logo in the list of exhibitors on the Hot Spot website
inclusion of your company profile in the Frankfurt Book Fair Catalogue (print), and of your events in the Calendar of Events (online)
access to a reserved meeting area at the Hot Spot area (Lounge)
Optional: 6 sq m and 12 sq m stands are also available, as are more extensive marketing offers, including collective branding for groups of exhibitors.
---
NEM deal L – tailor-made: €7,900
A tailor-made business and networking service in the Business Club.
This package is the best way to get a foot into the publishing sector, to learn, network and negotiate with future business partners in the Frankfurt Book Fair Business Club. This is a place specially tailored for business meetings, networking and company presentations. For more information about the Business Club, please see: www.book-fair.com/businessclub
This package in detail:
an area reserved for you and your contacts in the Business Club, branded with your logo featured at the Business Club entrance, at the registration counter and in the Business Club meeting area
Business Club Company Ticket (for up to 5 participants) plus 10 trade visitor one-day tickets for your guests (tickets include the use of public transport in Frankfurt)
access to the exclusive and tailor-made Business Club learning and networking events, and to the Frankfurt Book Fair conferences on Tuesday, 13 October: "The Markets" & "International Rights Directors' Meeting". For more details on the conferences please see: http://www.buchmesse.de/en/conferences/
inclusion of your logo in the Business Club printed brochure and on the Business Club website
Access to the Business Club counter with specialist staff (office and hosting services etc.)
free coffee and water for you and your guests
1 parking space in the car park at the exhibition site (P 4)
an opportunity to book presentation slots at the Business Club stage as well as other Book Fair stages, with additional advertising
---
Please call or write to our colleagues if you are interested in any of these options. Please ask us about the availability of the packages. We'd be glad to help you get the best presentation for your company! NEM members will be given a code to get a 15% discount on all additional marketing options.
Ms Maike Bannas: bannas([at])book-fair.com
Telephone: +49 (0) 69 2102 139
Mr Jens Ballenweg: ballenweg([at])book-fair.com
Telephone: +49 (0) 69 2102 259