New Realities Roundtable, Panel Discussion and Networking, London, 24 April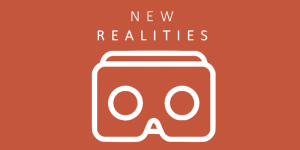 The New Realities roundtable, panel discussion and 1:1 brokerage meetings are the fringe events that Digital Catapult is holding in conjuction with the D&AD Festival – one of the world's largest and most prominent awards ceremonies for the creative industries.
Digital Catapult together with the NEM Initiative (New European Media) are inviting industry leaders and relevant stakeholders to join a roundtable, which will focus on enhancing collaborative communities across Europe – particularly those at the cross section of creative content and emerging technology.
Later this day, there will also be a panel discussion on the same theme, followed by networking drinks and a showcase of some of the most innovative activities happening by SMEs, which will take place in Digital Catapult's Immersive Lab.
One-to-one brokerage meetings are being facilitated at Digital Catapult Centre and can be booked between 12:30 and 17:30 on Monday 24th via the Vital Media collaboration tool.
Attendance of these events are free and open to all relevant parties, including thought leaders, academics, and representatives from strategic organisations and funding bodies.
More information and registration: